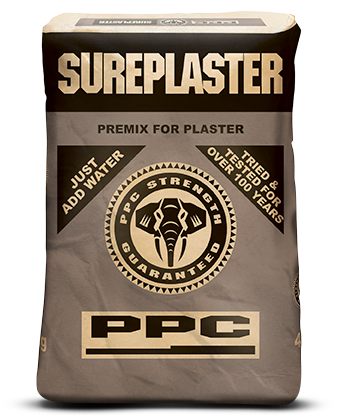 SUREPLASTER
superior final product
A quality premix designed to achieve a good consistant quality finish
Product Offering
Mortar Brochure
Download
Applications
Designed for demanding applications of both internal and external plastering
Advantages of Premixes
• Supplied in a ready to use state
• Just Add Water solution
• Convenient to apply, store and control
• Convenient, reliable and consistent product performance
• Consistent colour
• Contractors can increase productivity and save time
• Virtually immune to theft
• Vastly reduced wastage
• Mix as required
Supply and Use
Our Premix products are available in both Bag (40kg) and in Bulk for the SUREPLASTER and SUREMORTAR(16 ton, 21 ton and 34 ton silos). Delivery vehicles supply 17 tons of material per delivery which typically takes 30 minutes to offload.
When making use of the Bulk options, customers are required to construct a 3m x 3m x 125mm slab where the silo will be placed. The silo placement area must be level and in an uncongested area.
SUREPLASTER
A quality premix designed to achieve a good consistent quality finish.
Designed for demanding applications of both internal and external plastering.
Scratch Finish Plaster - designed for comprehensive strength of 5MPa after 28days.
Smooth Finish Plaster - designed for final comprehensive strength of 7MPa after 28days.